Why AppZen?
The kind of platform your finance team would have invented—if only they hadn't been so busy.
80%
Reduction in reimbursement time
100%
Of Business Spend Audited
If your finance team could wave a magic wand, here's what it would look like.
"

I'm building a world class compliance department and I need the best AI in place. AppZen is my go-to.

— VICE PRESIDENT COMPLIANCE

LIFE SCIENCES
The time for AI-powered spend auditing is now
Your finance team is facing some big challenges when it comes to business spend. In short, you have to do more with less, and you have as much risk as ever in your company. Let's break it down.
There's spend leakage - the errors, waste, and fraud hiding out in employee expense reports and invoices. Every company has it, but few know the magnitude because it's hard to find it all consistently and at scale. Compliance violations are also lurking in your spend. Will the next one be a minor corporate policy blunder or a huge regulatory violation that drags your company's name through the mud for the next year? Finally, your business is growing and so is your spend, but your spend audit and approvals processes are not keeping up. You don't have the people, time, and technology to do it right and keep pace.
" This saved us 3,000 hours in one month alone."
DIRECTOR, INTERNAL AUDIT
HIGH TECHNOLOGY
Our vision for the future
Our vision at AppZen is to deliver the AI platform for modern finance teams. Today, we are the leader in spend auditing, automating invoice approvals and optimizing expense reimbursement for enterprises around the globe. We will continue to expand our technical and market leadership to assist smart decision-making across a large swath of finance, including spend, revenue, cash, treasury, and beyond. We aim to use our domain expertise and the semantic understanding of our AI to solve the biggest pain points finance teams face. By focusing on obstacles that involve process automation; large volumes of data from disparate sources; and rapid, pre-transaction decision making; we will bring our core strengths to solve valuable problems for our customers.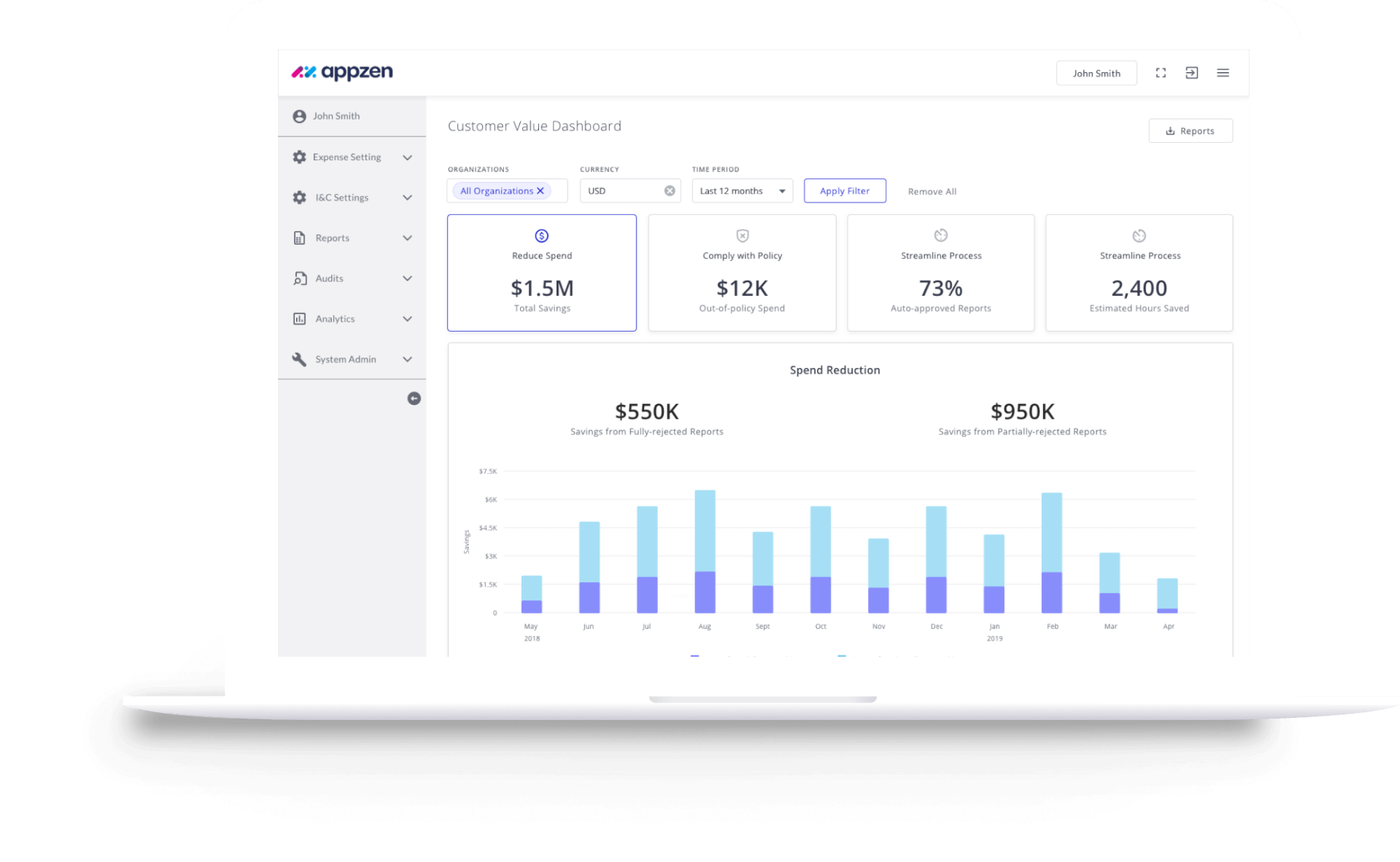 Time is money.
AppZen saves you both.
Contact us to set up a demo of our platform with one of our friendly enterprise account executives.
Schedule a Demo