Mastermind gives enterprise finance teams the power to automate their unique corporate spend policies to achieve compliance and 100% auditing on all expenses.
AI-first finance processes
AppZen's Finance AI can read, understand, detect issues in, make decisions about, and approve your finance documents autonomously. Mastermind builds and orchestrates your AI-first finance processes to achieve the most efficiency, while keeping it simple.
Configure to your needs
Combine spend attributes like amount, location with AI-based predictions to fully automate processing or flag for review. For example, you can use an employee name on an immigration invoice to determine the cost center for immigration legal services.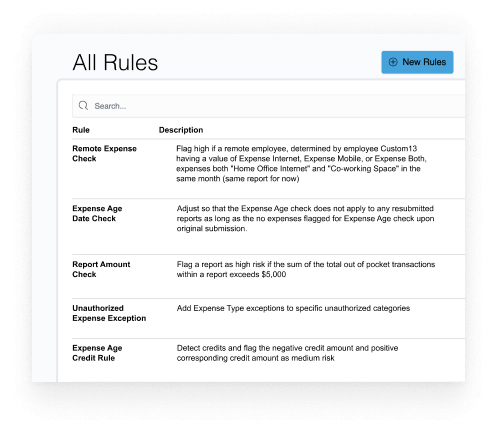 Automate reviews and notifications
If you can think of it, Mastermind can automate it. For example, you can automate notifications to PO requestors when an invoice exceeds funds available in a blanket PO. Or notify managers to sign off on expenses that exceed policy limits.
Turn analysts into designers
Transform your analysts into process designers who can easily configure custom policies and procedures. For example, project and grant-driven organizations can monitor and control spend with project specific policies and general ledger classification that represent client projects, grants, or events.
Accelerate time to value
Mastermind comes with pre-built AI functions designed specifically for finance use cases like T&E and AP, so you can configure, customize, and go-live in record time.
Key Benefits
Think big
If you can think it, Mastermind can automate it - document reviews, routing and designated approvals.
Smart decision and policy automation
Streamline processes that have historically required deep domain knowledge and human-decision making.
Reduce spend
Reduce spend by automating unique corporate spend policies, resulting in near 100% policy enforcement.
"

AppZen provided customized solutions to meet the specific needs of our organization's platform. They were able to get us to where we need to be with their great customer service and ingenuity.

— GLOBAL DIRECTOR OF ACCOUNTS PAYABLE

GLOBAL INSURANCE BROKERAGE
Schedule a demo, today.

Stephanie Long
Enterprise Account Executive
Contact us to set up a demo of our platform with one of our friendly enterprise account executives.
Schedule a Demo

Stephanie Long
Enterprise Account Executive