In 2005, DARPA issued a challenge to the world to create a self-driving car.
Since then, we have seen numerous steps towards this goal. We have gone from hand signals to turn indicators, from cruise control to driver assistance, and seen blind spot detection, parking assist, and collision warning alerts. Every improvement has enhanced our driving experience, but none of these improvements deliver autonomy - where a car is smart enough to drive on its own without needing any human intervention.
During 2018, I set the AppZen team a similar challenge. I asked them to imagine what autonomy would look like in a finance environment. I asked them whether a self-driving finance department was fact or fiction.
And today, at the AppZen Autonomous Finance Summit, just over 2 years after I set that original challenge, I have the pleasure of showcasing our first, and indeed the world's first, autonomous finance solution — AppZen Autonomous Payables.
The result is spectacular, delivering a seismic shift to the world of finance software. But to fully grasp the magnitude of this change, we need to explore what we mean by autonomy and why it is so important.
Introducing The Autonomous Index
The world is on a constant quest for automation. We live in an era where we use voice commands to control our home heating, our vacuum cleaners independently guide themselves around rooms, and our cars are learning to drive themselves more and more every day.
Increasingly the automation within our personal lives is being matched within the finance department. Exchanging invoices and making payments electronically, analytics, RPA, and supplier portals are examples of technologies being used to drive automation, reduce costs, improve efficiency, and ensure compliant and risk-managed environments.
We have come a long way from manual to automated. But the next leap is bigger — from automation to autonomous.
Automation is like driver-assist functions in a car. Rear collision warning, cruise control, and blind-spot detection help the driver in small parts, but she still needs to keep her eyes on the road and hands always on the wheel. Her driving is still 100% manual.
Autonomy changes this completely. An autonomous vehicle uses Artificial Intelligence and does not require human input at all. The car can travel from A to B without any human intervention — although, of course, the human needs to define A and B in the first place.
The Autonomous Index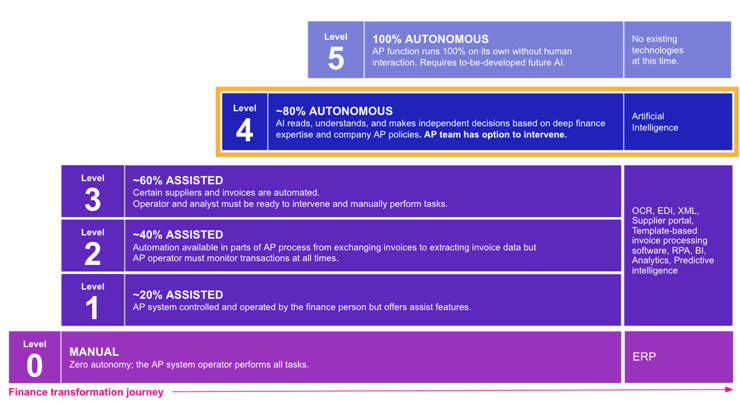 From manual processes to limited automation to complete autonomy. The world of finance software is about to change beyond recognition.
Autonomous Accounts Payable
One of the most cumbersome yet critical tasks for finance departments is invoice processing. The introduction of eInvoices and electronic payments, OCR, RPA, and supplier portals have all made the AP process more efficient over the years, improving overall automation and, to an extent, driven digital transformation. But have they delivered true automation? Not at all. Even "Best in class" organizations still face high invoice handling costs and lengthy processing times.
But what if AP could be autonomous?
An autonomous AP environment requires a different mindset and set of capabilities to succeed. The autonomous AP system would need to be:
A system intelligent enough to contain all the business and accounting knowledge and expertise that lives within the finance department.

A system that, like a truly autonomous car, can deliver an autonomous finance experience efficiently, reliably and in compliance of all policies and regulations

A system that can process an invoice ALL the way and still guarantee accuracy, compliance, and risk.
An autonomous system that could deliver this level of service would sit at level four of the autonomy index. Process decisions could be taken autonomously under certain conditions, and the system could take decisions and execute all AP-related tasks, including matching, accounting, approvals, etc. - without review. And equally importantly, the AI would know when it cannot make a decision - and engage a human operator.
Such an AP autonomy solution sounds like magic. It is — and it is here today.
The Future of Finance is Autonomous Payables
AppZen Autonomous Payables is the world's first level 4 autonomous finance solution.
With Autonomous Payables, AI is used to extract, validate, classify, match, review and approve invoice documents and spend in real-time with minimal manual intervention. In a manual or SaaS application processing world, these invoice processing steps happen sequentially and take weeks. With Autonomous Payables, these steps can occur within minutes, and activities like pre-payment audits that are virtually impossible to do manually can now be done for 100% of the invoices.
Transaction processing decisions have moved from "software-assisted" human decisions to "fully autonomous and automated" software decisions, where human intervention is only needed to resolve exceptions. AppZen Autonomous Payable accelerates the speed and agility of the business, reduces costs, and strengthens controls.
In 2018, I asked my team if a self-driving finance department could be fact and not fiction. Today I am proud to show the world that the future of the finance back-office is Autonomous Payables — 100% fact and zero fiction.
See how Autonomous Accounts Payable works in this video.
Anant Kale
Founder & CEO at AppZen. Anant dreams up the next use of Artificial Intelligence for enterprise automation
Get the latest in your inbox
Subscribe to the AppZen blog and never miss a post!