Key takeaways:
Travel expense claims rapidly declined towards the end of March
Office supply expense claims skyrocketed as employees began to work from home
Essential industries have been affected less, and later, than non-essential and more digital ones
In a few short weeks, COVID-19, also known as the coronavirus, has permeated every aspect of our lives and completely changed how (and which) businesses operate. Business travel and entertainment have come to a standstill. Many companies have switched almost entirely to working from home to enforce social distancing or comply with mandatory shelter-in-place mandates. As the economic landscape becomes increasingly uncertain, many companies have been forced to take difficult actions in order to cut spending as they endure a severe downturn of unknown length.
During this challenging time, AppZen will continue to provide insights to help finance teams navigate this ever-changing situation. In our previous blogs on March 17 and March 25, we focused on employee expense claims related to COVID-19 in order to shed light on what employees were expensing in the early days of the outbreak. As the crisis progressed, the scale and nature of expense claims have changed drastically. As expected, trip cancellations and work-from-home expenses increased dramatically, while business travel expenses dropped.
We wanted to dig even deeper into our data to find out how employee expenses have changed in comparison to this period last year: Which industries' expenses have been most and least affected by the current environment? What kinds of expenses are changing the most?
The baseline: Strong year over year growth before COVID-19
To contextualize the changes wrought by the current COVID-19 health crisis, let's first look at what happened before it began. Between January 2019 and January 2020, expenses in the top 10 largest categories grew by 24%. While COVID-19 was causing major disruptions in Asia and Europe in early February of this year, overall expenses still rose by 8% compared to last year. By March, that percentage had declined to about 7%.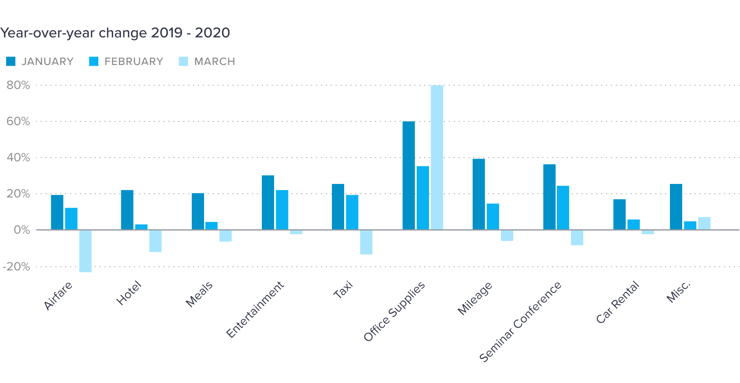 In March, travel expenses began to drop
Unsurprisingly, travel-related expenses such as airfare, hotels, baggage fees, taxis, and trains dropped 9% between March 2019 and 2020. Looking at weekly data shows just how precipitously travel expenses have dropped. Expenses in early March were higher than 2019, but as the month progressed, expense claims fell dramatically. By the last week of March, travel expense claims were down by 40% compared to last year.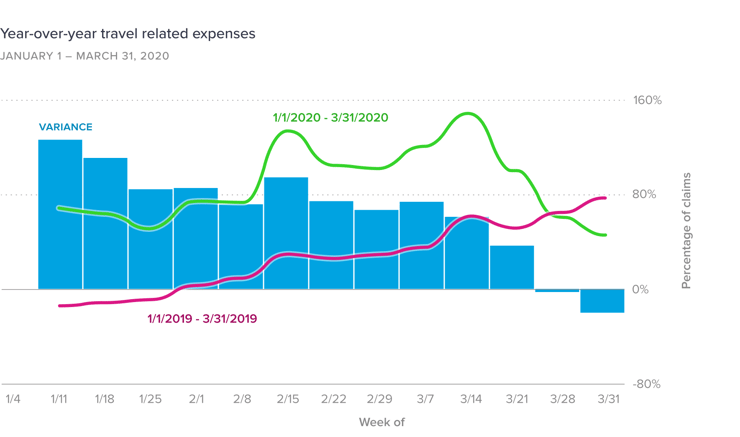 However, not all industries are equally affected. Heavily white-collar, digital businesses that have been deemed "non-essential" have dropped off the most. In finance and insurance, for example, expense claims fell by 47% year over year in the last week of March. In information businesses (mostly software and media), claims fell even more – over 63%.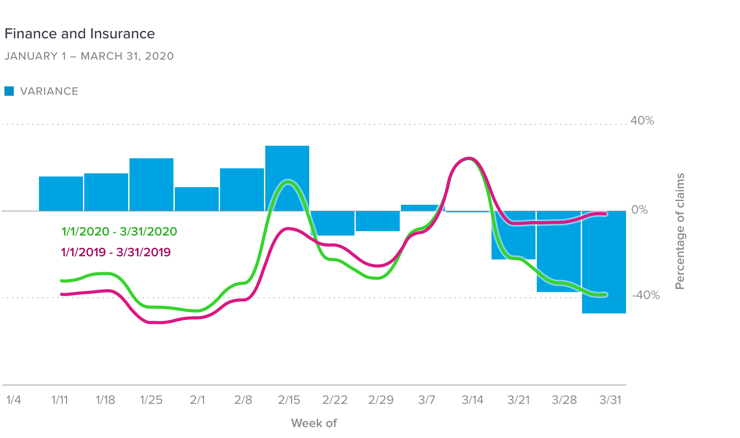 Businesses like construction (whose "essential" status varies by type and location), and life sciences (definitely essential!) were affected to a much lesser extent to date. In the same timeframe, expense claims for construction companies only decreased by 12% compared to last year. Life sciences companies actually saw an uptick in expenses during this time – a 3% increase from last year, though the trend line over the last 5 weeks, if it continues, points toward a decrease in the weeks ahead.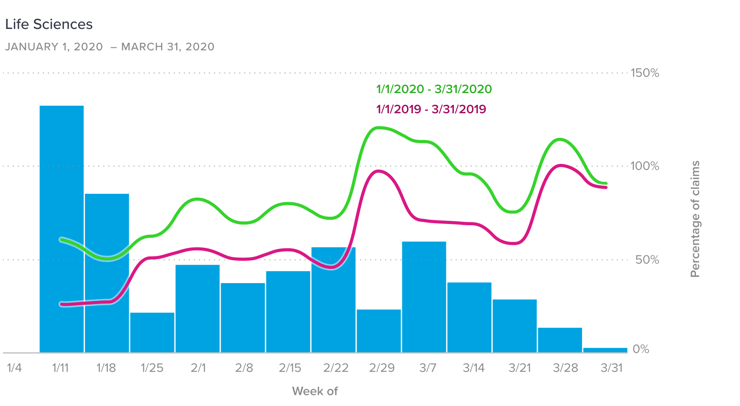 Office expenses have gone up as many employees have shifted to working from home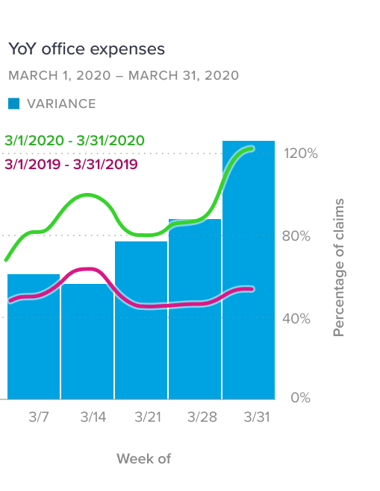 Expenses in the office supply category have increased across every industry during this timeframe. The biggest spike was during the month of March, where we saw 80% growth in these expenses across industries.
As companies closed their offices and began encouraging their employees to work from home, many employees needed to expense office supplies such as laptops, monitors, cables, and keyboards. The last week of March was the biggest spike in these expenses, particularly for the construction, information, and professional services industries.
Variations in expense categories by industry
In March, expenses in categories such as subscriptions, training, and internet were 20-25% higher compared to March of last year. Demand for subscription-based services such as video conferencing software rose in March as employees began to work from home. This would explain the additional charges for internet, as some companies allow remote employees to be reimbursed for internet usage.
We also saw variation by industry. Both life sciences and construction industries show an uptick in transportation mileage during the month of March. This may be due to the fact that these industries are considered essential and car travel adheres more strongly to social distancing requirements in the current environment. Finance and insurance companies saw a big surge in subscription expenses, over 7 times higher than 2019. Construction companies saw the biggest surge in office supplies, 5 times higher than the previous year.
We're here to help
We hope these insights are helpful to you and your business. To stay current on our resources for finance teams during this crisis, please visit our COVID-19 resources page. If you're an AppZen customer, we have information like the above we can share with you directly — please reach out to your Customer Success Manager for more details.
If you'd like to share how your company is handling expense policies during this time, or are interested in more data for a particular industry we didn't highlight above, please reach out to us at communications@appzen.com. In the meantime, we hope you stay safe and healthy during these uncertain times.
–––
A few notes on methodology:
We analyzed data from a representative sample of companies who have been customers since December 2018 at the latest, to ensure an apples-to-apples comparison between 2019 and 2020 expenses.
However, bear in mind that expense data is a lagging indicator of transactions, as they are captured only when expense reports are submitted.
Expense categories are defined by customers, which makes aggregating them directly a challenge. AppZen's AI is designed to understand the nature of spend transactions, so we used AppZen's imputed expense types in the category analysis.
Uri Kogan
Vice President of Product Marketing
Get the latest in your inbox
Subscribe to the AppZen blog and never miss a post!