Employees in organizations with operations in China are required to submit fapiao with their business-related expenses. The Fapiao Validation App ensures that all relevant business-related expenses have the correct fapiao information attached so employees can be reimbursed faster and corporations can maximize their qualified tax deductions. This App includes up to four custom models, which you can enable based on your business needs: Stamp Approval Check, Buyer Title and Tax Code, Supplier Name Verification, and Supplier Tax Code.
AppZen fapiao AI models deliver best-in-class accuracy
Stamp Approval Check: Flags a missing stamp on the fapiao
Buyer Title and Tax Code Check: Compares extracted tax values with a predefined list of names and tax codes
Supplier Name Verification: Flags any inconsistencies between the submitter-entered supplier name and the supplier title on the receipt
Supplier Tax Code: Flags any tax codes that do not adhere to the standard tax format
Stay in compliance with fapiao requirements
Flag as high risk if certain fields in the fapiao are missing or do not adhere to the standard fapiao format
Configure CNY organization, expense types, and amount thresholds
Validate the customer entity and tax code, supplier entity and tax code, and fapiao stamps
Maximize tax deductions
Ensure all required fapiao are collected and ready to be used in the reclaim process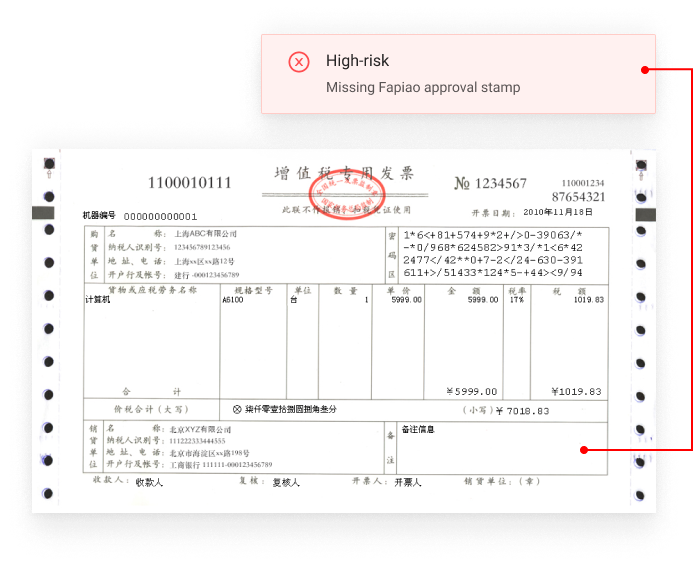 Want to know more about the
Fapiao Validation Standard App?